N E W S
9/16/2018: Our classmate Bobby Lasater died on September 14, 2018. We send condolences to Bobby's wife and family.
7/31/2018: Dustin Griffith, grandson of classmates Wade Slatton and Patricia Mincher Slatton (deceased) was tragically killed on Saturday when he fell from rocks near Suck Creek Rd. in Marion County. We send our deepest sympathy to Wade in his terrible loss.
7/28/2018: Our friend and classmate, Jarrett Shiflett, died on Monday, July 23, 2018. We send our heartfelt condolences to his family.
7/9/2018: We just received the sad news from his wife Elaine that David Zimny passed away last night, July 8, 2018, from a battle with cancer. We send our deepest sympathies to Elaine and David's entire family.
6/6/2018: The sad news today is the death of our classmate, William Lee Smith, who died on June 5, 2018. On behalf of the entire Class of 1962, we send our sympathies to Bill's family.

http://www.chattanoogan.com/2018/6/6/370003/Smith-William.aspx
4/21/2018: Today we received the sad news from his wife, Carolyn, that our friend and classmate, Charles Armstrong, suffered a fatal heart attack on January 25, 2018. Our sincere sympathy goes out to his family.
3/23/2018: We extend sympathy to the Abston family on the death of Joe's mother, Bettye, on March 20, 2018. Services will be at the Mausoleum Chapel, Georgia Memorial Park Funeral Home, 2000 Cobb Parkway SE, Marietta, GA. There will be visitation Saturday, March 24, from 9:00 to 11:00 followed by a Celebration of Life at 11:00.
12/4/2017: We regret to report that our classmate, Patricia Mincher Slatton, passed away on December 3, 2017, after a battle with Alzheimer's disease. We extend our deepest sympathy to Pat's family.
2/8/2017: Dora Hogwood, mother of classmate Carolyn Hogwood Burton, passed away on February 8 in Chattanooga. We send our sincere condolences to Carolyn and her family.
2/2/2017: We learned today that our classmate, Roger Jackson, died on January 31, 2017, and we extend sincere sympathy to his family.
10/31/2016: We are saddened to learn of the death of our classmate, Irene Phillips Lasely, on October 29, 2016, from acute leukemia. We all extend sympathy to her family, which includes her cousin and our classmate, Wanda Phillips Booth. Irene's obituary can be found at
9/9/2016: Martha Blevins Hillis (RBHS Class of '64), wife of classmate Lane Hillis, died on September 7, 2016. Services are scheduled for 10:00am September 10 at Mountain Creek Church of Christ. We extend condolences to Lane and his family.
8/9/2016: Our sympathy goes out to classmate Connie Gamble Robison on the death of her husband, Kenneth Wayne Robison, on August 8, 2016. Arrangements are unavailable at this time.
7/15/2016: John Bainbridge Ferguson, beloved older brother of classmate Nancy Ferguson Shell, died on July 10 in Greenville, SC. Our class extends heartfelt sympathy to Nancy and her family.
4/24/2016: Susan Simmons Lane, wife of classmate John Lane went to be with the Lord on Friday, April 22, 2016. Memorial service will be held in Suwanee, GA. We send our condolences to John and his family.
4/10/2016: It is with regret that we send notice of the death of Pete McCalman, beloved brother of classmate Judye McCalman, on April 8, 2016. For the entire RBHS Class of 1962, we extend our deepest sympathy to Judye and her family. Here's a link to his obituary:
3/23/2016: It's our sad task to notify everyone regarding the passing of one of our classmates, James Everton, on March 19, 2016. James' picture was not in the 1962 Roar, but it was in the 1961 Roar with the Class of 1962. He was never on any of the contact lists that were built for our recent reunions. Our condolences to James' family.

3/10/2016: It's our sad task to let all of you know of the death of Judi Walker Felton's brother. Jimmy Walker, a graduate of RBHS Class of 1964, on March 8, 2016. We offer our condolences to Judi and her family.
5/5/2015: We are sad to report the death of classmate Mary Jane "Janie" Smith on May 2, 2015.

2/27/2015: We want to send our condolences to Lawrence Shull during his time of loss. Glenda, his wife of 26 years, passed away this week. She has joined the class on many occasions including reunions. Glenda has battled cancer for many years. She fought a good fight, but sadly she could fight no more. Please remember Lawrence and their family in your thoughts and prayers as they travel through this sad time.
Sharron Abercrombie visited Ethel Holder Preston at her home in Park City, Utah, where they attended the Sundance Film Festival January 22-February 1, 2015.
The Dry Valley Messenger
is published quarterly by the Red Bank-White Oak Historical Society. We hope you will find in it something of interest to you. If you're interested in becoming a member of the Society, contact Tom Williams at
tomwilliams231@comcast.net
.
On Page 5 of the Jan 2015 issue is a photo from Linda and Lanny Landers' fourth birthday party. See which classmates you can recognize!
Click here for the Jan 2015 issue.
Click here for the Oct 2014 issue.
7/23/2014: Our friend and classmate, Tommy Jackson, is now free of pain and suffering. We extend sympathy to his wife, Betty Mee Jackson, and their family. Services will be on Sunday at 3:00 at Red Bank United Methodist Church. Click the link below for more information, including hours for visitation, or copy and paste in your browser:
1/2014: We extend sympathy to Wendall Moffitt on the loss of his father on January 17th and to Arwilda Vandergriff Bonine on the death of her sister on January 19th.
12/14/2013: We are so sad to report the loss of another classmate. Today Carolyn Rothwell Congdon lost her battle with cancer. Please remember Carolyn and her family during this time of sorrow. Her address is: 4105 Fitehaven Dr, Chattanooga, Tn 37415.

10/2/2013: We have sad news to report. Jack Quillen died Monday, September 30, due to complications following surgery. He lived in Columbia, SC. Please pray for his family. For Jack's obituary, click this link:
9/27/2013: We sadly announce the passing of another beloved teacher. Mrs. Elizabeth Lyon died on September 25th at the age of 94. The funeral will be Monday, September 30, at Lane Funeral Home on Ashland Terrace. Except for hair color, the photo in her obituary (link below) looks much the same as we remember her.

6/28/2013: Mrs. Mary Jane Blanchard passed away on June 26th at age 91. Funeral arrangements are with Chattanooga Funeral Home North Chapel and a graveside service will be held at 11am on July 1st followed by a celebration of life at the Northside Presbyterian Church at noon. Our prayers are with her family.
5/30/2013: We are stunned at the passing of David Collins. He will be missed by all. He was an integral part of our 50th reunion planning committee. He has entertained us at two reunions and his smile has always warmed our hearts. Please remember his family with your prayers.
5/29/2013: We have lost another in our class. Donnie Ray Campbell passed away on May 27th after losing his battle with cancer. Funeral services will be Thursday, May 30th. The link below is his obituary. Please keep Donnie's family in your prayers.
4/1/2013: We are saddened to report the death of our classmate, Joe Carroll, on March 29th, 2013, and extend sympathy to his family.
February 2013 from Ethel Holder Preston: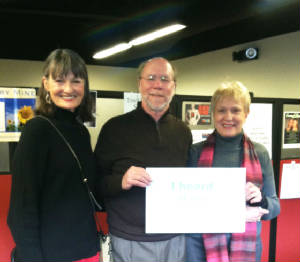 Hello, All,
John and Pat Pleasant treated me with their visit to KPCW radio where I am office manager. (The sign says I Heard It on KPCW). They were in Park City with a group of friends from Birmingham. We had a great time talking non-stop over a delicious dinner at one of Park City's fine restaurants.
I hope more Class of "62 graduates will visit me in Park City in the coming year!!
Best wishes to all,
Ethel
1/9/2013: Our classmate, Rae Dean Falls Geren's father passed away on Sunday. Visitation will be Friday, Jan. 11th from 11:00 to 1:30 at Heritage Funeral Home, 7454 E. Brainerd Rd. The funeral will follow visitation at 1:30. Please remember the family especially Rae Dean in your prayers and thoughts. We've included a link to Mr. Falls obituary:

10/20/2012
: We are sad to announce the death of our classmate,
Lee Douglas Ketchersid,
on October 19, 2012, following a long, hard battle with cancer. Lee and her family have lived in Dayton, TN, for many years. A memorial service will be held on October 27th, and details can be found here:
http://www.vanderwallfh.com/obituaries/Lee-Ketchersid/#/Obituary
3/30/2012:
Sending our sympathy to
Karen Winchester Wells
whose father, Charles U. Winchester, died on March 24th at age 89. You may visit
www.lanefh.com
to share condolences.
2/28/2012: Sending our sympathy to Garry Hall, whose father died on February 26th at the age of 93. Click here for Mr. Hall's obituary:
9/27/11:
Mrs. Lillian Blanks, mother of
Larry Blanks
(Class of '61) and mother-in-law of
Diane Morris Blanks
, passed away on September 25th at the age of 99. Funeral services will be at 11:00 on September 28th at the North Chapel of Chattanooga Funeral Home. The family will receive friends from 4:00 to 8:00 this evening. Click here for Mrs. Blanks' obituary:
http://www.chattanoogan.com/articles/article_209921.asp
9/7/11:
We sadly report the death of Mrs. Mary Frances Churchwell on Sept. 5th. Mrs. Churchwell, a beloved teacher to many of us, was the mother of Eli Churchwell, Jr., husband of
Susan Alford Churchwell
. Services will be at 1:00 on Sept. 8th at Lane Funeral Home on Ashland Terrace. For more details, click here:
http://www.timesfreepress.com/obituaries/2011/sep/07/mary-frances/
8/23/11:
Extending sympathy to
George Thrash
and family on the death of his mother, Mary Nelle Thrash Childress, who passed away yesterday at age 90. Services will be Thursday, August 25, at 11:00am at Red Bank United Methodist Church. The family will receive visitors beginning at 9:30am. For more information, go to
http://www.chattanoogan.com/articles/article_207479.asp
5/26/11: Barry Groves has returned home from triple bypass surgery on May 19th in Atlanta at St. Joseph's Hospital. According to brother Larry, he's doing fine.
5/18/11:
We are sad to report that
David Zimny's
mother passed away Monday morning at Alexian Brothers on Signal Mountain. Funeral services will be held on Monday, May 23rd, 1 p.m. at White Oak United Methodist Church. Please remember this family in your prayers. Obituary may be found at
http://www.chattanoogan.com/articles/article_201515.asp
3/11/11: Susan Miller Thurman has a new granddaughter! Natalie Hope Day was born March 4, 2011, weighing 7 lbs. 3 oz. Proud parents are Kerri (Susan's daughter) and Chip Day of Ooltewah, and she has a big brother, Nolan Reed, age 3.
3/3/11: Sympathy goes out to Barry and Larry Groves, whose mother passed away on March 1st. For more information, go to
2/25/11: Charles Armstrong's mother passed away last night. Her funeral is Saturday, February 26th, at 2:00 at Chattanooga Funeral Home on Hwy 153. Visitation is Friday, the 25th, from 4-8, also at the funeral home.
2/19/11 from Ethel Holder Preston:
Hello Friends,

The Western Reunion of Red Bank High's 1962 graduates took place in Death Valley, CA on Feb. 12-14. Attending were Pat (Patsy Kean) & Buddy Bowlin, long-time RVers (12 years) & often camp hosts (see them at Yosemite May-July) ; Lynn (Passons) & Earl McClelland, Crossville, TN residents but also members of NOMADS, a mission of the United Methodist Church in which RVers meet in mission all over the U.S, on their way from a work site in Arizona to one in LaVerne, CA; Jane (Christie) and Dick Van der Weyden, long-time residents of Michigan, who for 7 years have been care takers for a ranch near Dubois, Wyoming. They usually camp, but this time rented an RV and parked next to Pat and Lynn; Linda (Landers) Dolive, retired Professor and Administrator at Northern Kentucky University & resident of Cincinnati; and Ethel (Holder) Preston, now 8 1/2 years in Park City, UT after 30+ years in Virginia, and still working. Linda spends the winter months with friends in LA and was accompanied by her hostess, Debbie Deem, who is in the picture labeled DuneLDE.

We had a terrific time. At dinner, I felt as if I were a character in a novel. We ate pizza in the Corkscrew Bar with the Red Bank girls sitting at one end of a corner table and the guys at the other end. After the pizza was consumed, we girls scooted our chairs closer together and the reunion began. The conversation flowed between past and present and swirled from one girl to another. I would love to have a real video of our interaction to add to my internal video which unfortunately tends to fade.

Death Valley was fantastic. Terrain ranges from Badwater Salt Lake and Flats which is the lowest point in U.S., to multicolored clay hills, to mosaic marble rocks, to sand dunes. Very interesting geology! Scotty's castle and the Ubehebe Crater are in the northern area and are about 3,000 ft. above sea level and somewhat cooler than the southern end.
An Unsolved Mystery! Can You Help?

John Lane has a friend who was searching creeks in north Georgia (Ringgold area) with a metal detector and found a 1962 Red Bank High School class ring. It's in perfect condition and has the initials "J. H. R." on the inside. According to the finder, the ring appears to be about a size 8-1/2. Also, the initials appear to have been "scratched" into the ring and not professionally engraved.

We have searched the alumni records and have not found anyone with those exact initials. It appears to be a man's ring, so maybe somebody's girlfriend got mad and threw the ring in the creek! Did you give your ring to someone with those initials?

If you have any clues, the finder wants to return the ring to the owner, and we'd love to help him do it. Get in touch with Joe Abston or Larry Blanks if you have any leads.
1/3/11: As a follow-up to the item below, we've learned that Bill Mee, brother-in-law of Tommy Jackson, died on December 22, 2010, in Delaware.
12/15/10: This news was sent to us from Dave Clonts via his sister, Susan (Class of '65). Tommy Jackson had surgery on 12/7 to remove his left leg below the knee. His other leg was amputated two years ago. Tommy has many struggles with diabetes. Please remember tommy and his wife, Betty Mee Jackson (Class of '65), in your thoughts and prayers. In addition, Betty's brother Bill Mee (Class of '63) is fighting cancer.
11/21/10: Patsy Roberts Haire became grandmother again! It was a surprise in that JJ, her daughter-in-law, was in Dalton, GA, for her baby shower when William Roberts Haire decided to enter this world five weeks early. Needless to say, everyone was very surprised and thrilled for him to arrive in Dalton near family and friends. He weighed 6 lbs. 3 oz. and measured 20 1/2 inches long. Will must stay in the Special Care Nursery for a couple of days; otherwise all is well. Patsy's younger son Matt and JJ are the proud new parents.
11/4/10: We've just learned of the death of Mrs. Waletha Cofer, former RBHS teacher, on October 24th in Eden Prairie, MN.